We are dedicated to nurturing young talents by instilling a solid foundation through quality teaching, in a fun environment.
Our babies in the Pre-School level receive an introduction to learning the basic foundations of ballet, through music, singing and role play. We use theme-related props to fuel their imagination. They are encouraged to express their creativity, by moving or posing with their bodies. We promote physical action such as jumping, hopping and clapping, in a safe and conducive studio setting.
We are passionate about improving the physical ability and bringing out the best in our students. High emphasis is placed on improving technique, posture, alignment, coordination and control. The rigours and discipline of classical ballet help to develop into useful life skills, which translate themselves to other areas like work and school.
We proactively seek to create and provide opportunities for our students to take part in stage performances and competitions. This aims to showcase their hard work to a live audience; and enhance their awareness of the use of space and projection of moods and emotions, through themes and movements.
It is our mission for students to perform and dance with expression, creativity and artistry. The best reward is when our dedication culminates in the students' sheer joy in performing.
We offer the ballet curriculum by the Royal Academy of Dance (RAD). Our Jazz course is endorsed by the Australian Teachers of Dancing (ATOD). Both are highly-accredited examination bodies, as facilitators of dance education.
The ATOD jazz syllabus encompasses all styles of dance from foundation jazz to the very latest moves. Students are eligible to enter for the annual examination in March/April. Like the ballet syllabus, the ATOD Pre-School Jazz curriculum aims to introduce small children to the magic and fun of mime, music and dance. The syllabus includes exercises that enable children to explore space, develop musicality and improve coordination. The youngsters also have the opportunity to exhibit their moves during the annual demonstration in March/April.
Courses are offered based on the Royal Academy Of Dance syllabus. The Academy's syllabi are specially designed for students to progress from the beginner to professional level. Students are eligible to enter for the Royal Academy Of Dance Graded Examination or Vocational Examination annually.
Timetable TST >>
Timetable Central >>
Pre-Primary
to Grade 8
Children Graded
Examination Classes
Intermediate
Foundation
to Advanced 2
Vocational GradedExamination Classes
Pre-School
Demonstration 1
3 - 4 years old
Pre-School
Demonstartion 2
4 - 5 years old
Adult Ballet
Class specially designed for working ladies/ mothers to enjoy the beauty of dance.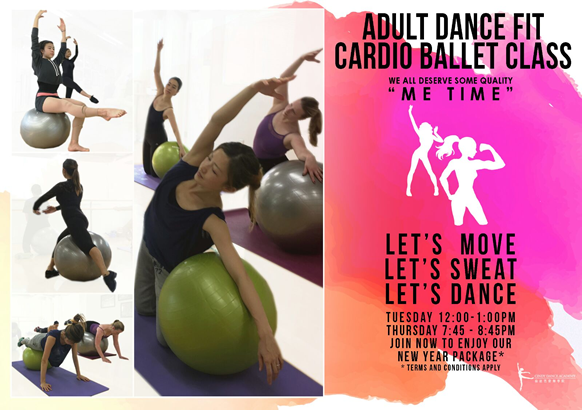 Introducing our new adult dance fit Cardio Ballet class.
It is a fun and innovative way of working out, while incorporating the beautiful lines of ballet, formed with the correct alignment of the body, carriage of the arms and leg extensions.
Ballet elements are used in the routine, which also makes use of the fit ball.
The focus is on core control and strength, to get your balance right.

Why use the fit ball?
With proper use, the fit ball helps to strengthen the muscles of the abdomen and the lower back.
These stabilizer muscles, are important in protecting the lumbar spine. The stabilizers are used in daily activities such as lifting and reaching. Just sitting on the ball engages the stabilizers to keep your balance.
Including the fit ball adds some variety to the workout routine. The benefits are endless; toning, core strength and conditioning of the muscles.

Our Cardio Ballet starts with a warm up using the ballet routine. The pace increases with aerobic exercises to raise the heart rate, in the cardio section, with a mix of jazz. We then move on to limbering exercises on the fit ball for muscle toning and strength training.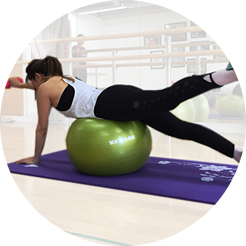 We are launching our clothing line, Vitamina Collections.
Active wear features our custom designed leotards, with snap crotch functionality, which can also be worn as a bodysuit. Casual wear includes t-shirts and hoodies, in adult and children sizes. Watch this space for updates on more colour choices for hoodies in autumn 2017. All items are available for purchase at
Cindy Dance Academy studio.